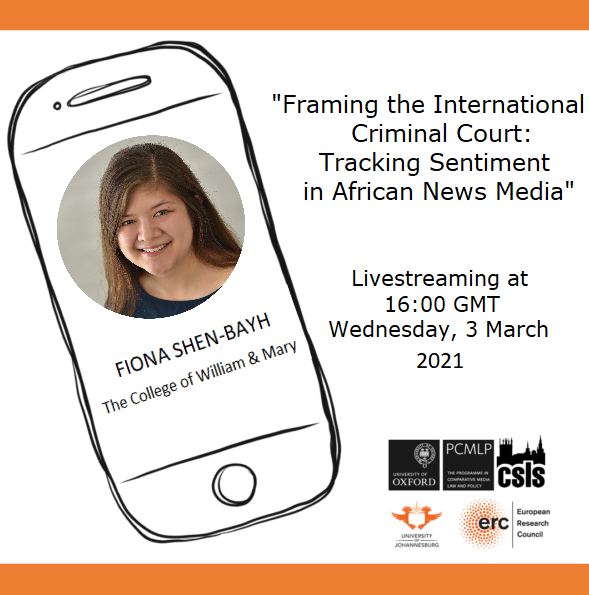 Framing the International Criminal Court: Tracking Sentiment in African News Media
ABSTRACT: This paper examines how African elites affect perceptions of international justice as illegitimate, unfair, and corrupt. We argue that forums such as the African Union (AU) can have ripple effects on how international justice is discussed among the general population, in some cases, changing the literal terms of debate. To test this argument, we use an original web-scraped corpus of over 142,000 articles from African news sources and leverage novel text-as-data approaches to track how the International Criminal Court (ICC) is discussed in local media. Using a word embedding analysis, our findings reveal that the content of ICC news coverage varies over time and in response to major developments of the AU, wherein elite efforts to discredit the ICC were subsequently reflected in more negative news coverage. Our findings underscore the complex, nuanced relationship between elite and popular perceptions of international justice and suggest new mechanisms by which elite discourse is filtered down to domestic audiences.
BIO: Dr. Fiona Shen-Bayh is an assistant professor of Government and Data Science at William & Mary where she also serves on the executive board of the Center for African Development. She is also an affiliated researcher of the Global Research Institute at W&M and the Centre for Law and Social Transformations at the University of Bergen. Her research broadly examines the institutional dimensions of autocracy, including the legal and judicial instruments of autocratic rule, as well as the challenges of promoting access to equitable justice in the Global South. She earned her PhD and MA in Political Science from the University of California, Berkeley and was previously a Postdoctoral Fellow at the University of Michigan.
To register, please click here.
Oxford UJ Global Media Policy Seminar Series
We recently started the Oxford UJ Global Media Policy Seminar Series with the express intention of breaking out of the traditional mold of in person seminars that are often rich in information but inaccessible to those outside of Oxford. By hosting the seminars live online we can bring fantastic speakers from around the world, and make their talks available to anyone with an internet connection regardless of location. We actively encourage virtual participation in all of our seminars and discussions.
All of our seminars will be available afterwards on the PCMLP YouTube channel indefinitely.