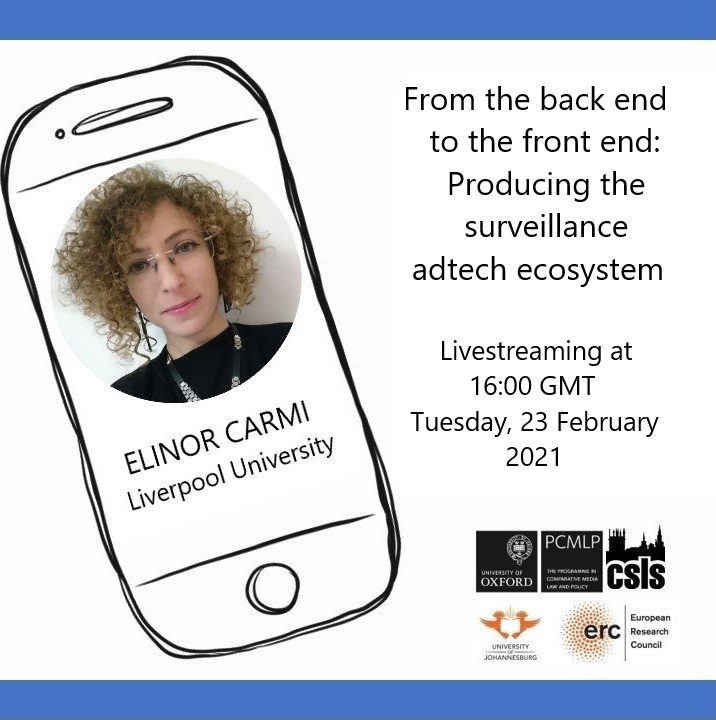 From the back end to the front end: Producing the surveillance adtech ecosystem
In this presentation I'll talk about my new book – Media Distortions (open access). The book examines the power behind producing deviant media categories. It shows the politics behind categories we take for granted such as spam and noise, and what it means to our broader understanding of, and engagement with media. Drawing on repositories of legal, technical and archival sources, the book amplifies three stories about the construction and negotiation of the 'deviant' in media. In this talk I'll focus on the second story: the early 2000s, specifically the web metric standardization in the European Union showing how the digital advertising industry constructed what is legitimate communication, while making spam illegal. By lobbying EU legislators and the Internet Engineering Task Force (IETF), the digital advertising industry and tech companies standardized the category of spam around any 'problematic' behaviour threatening their business. This required configuring spaces and people on the web, establishing the foundations for the surveillance adtech ecosystem we experience today.
Bio:
Elinor Carmi is a researcher, journalist and ex-radio broadcaster who has a passion for technology, digital rights, and feminism. In the past decade she has been examining internet standards, specifically the development of the digital advertising ecosystem such as advertising networks, real-time-bidding, and web-cookies/pixels. Currently Dr. Carmi is a Research Associate at Liverpool University, UK, working on several projects: 1) "Me and My Big Data – Developing Citizens' Data Literacies" Nuffield Foundation funded project; 2) "Being Alone Together: Developing Fake News Immunity" UKRI funded project; 3) POST Parliamentary Academic Fellowship working with the UK's Digital, Culture, Media & Sport Committee on the project: "Digital literacies for a healthy democracy". In July 2020, Carmi was invited by the World Health Organisation (WHO) as a scientific expert to be part of the closed discussions to establish the foundations of Infodemiology. Before academia, Elinor worked in the electronic dance music industry for various labels, was a radio broadcaster and a music television editor for almost a decade. She also tweets @Elinor_Carmi.
To register, please click here.
Oxford UJ Global Media Policy Seminar Series
We recently started the Oxford UJ Global Media Policy Seminar Series with the express intention of breaking out of the traditional mold of in person seminars that are often rich in information but inaccessible to those outside of Oxford. By hosting the seminars live online we can bring fantastic speakers from around the world, and make their talks available to anyone with an internet connection regardless of location. We actively encourage virtual participation in all of our seminars and discussions.
All of our seminars will be available afterwards on the PCMLP YouTube channel indefinitely.